Peppt Geburtstage auf: mit The-Birthday-Club.de
The Birthday Club ist Geburtstagsspaß für Euch, Eure Freunde und Eure Familie. Findet das passende Sternzeichen: Wir zwölf stehen für Euch bereit!
Holt Euch hier kostenlose Bilder und Banner – für private Nutzung. Zeigt in Profilbildern, unter welchem Sternzeichen Ihr steht. Postet Glückwünsche oder sendet Grüße.
Habt Ihr Fragen, Ideen oder Vorschläge? Dann schreibt uns einfach an the-birthday-club (at) gmx.de
Bleibt peppig,
Euer
The-Birthday-Club-Team
Neu: The Birthday Club – Das Album!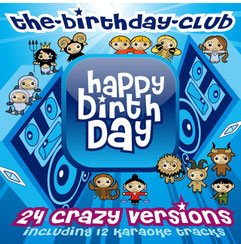 The Birthday Club präsentiert: 12 Verrückte Versionen des bekannten Happy Birthday Songs:
Reggae • Soul • R'n'B • Rock • Disco • Techno • Swing • Rock'n'Roll • Jazz • Brass Band • Punk • "Docks"
+ + + PLUS 12 Karaoke Versionen. Label: Blue Monkey Records
Copyright: (p) Blue Monkey Music, 18:44 min
Reinhören? Zum Beispiel bei Amazon: